Winning Numbers Monday 05/20/2013
Top prize is
$1,000 a day for life!
Lucky for Life - $1000 a Day for Life
The six New England Lotteries have joined together to offer their players a great new game with a top prize of $7,000 a week for life! That's $1,000 a day for life!
Lucky for Life is only available in the 6 New England states: Connecticut, Maine, Massachusetts, New Hampshire, Rhode Island and Vermont.
Win $1,000 a day for life
10 Ways to Win a Prize
Drawings every Monday and Thursday at 10:38 PM. The cutoff for ticket sales is 9:30 PM the day of the draw
Cost Per Play - $2
Win $25,000 for matching 5 numbers
Subscriptions
Subscriptions are not available for Lucky for Life. Players can only purchase tickets at lottery retail agent locations for up to 20 draws.
Ticket Sales and Draw Time
Lucky for Life tickets can be purchased daily. The cut off time for ticket sales is 9:30 PM (ET) on the day of the draw. Drawings are held every Monday and Thursday at 10:38 PM (ET). You can watch the Lucky for Life drawings by visiting the official drawing webcast.
Cancelling Tickets
Lucky for Life tickets CAN NOT be cancelled.
How to Win
Match your numbers to those drawn by the Lottery to win cash Prizes! Win by having any one of these 10 combinations.
| Numbers to Match | Prize | Odds |
| --- | --- | --- |
| | $1,000 a Day for Life | 1:13,818,168 |
| | $25,000 | 1:690,908 |
| | $2,000 | 1:78,961 |
| | $100 | 1:3,948 |
| | $50 | 1:2,322 |
| | $10 | 1:116 |
| | $15 | 1:211 |
| | $2 | 1:11 |
| | $5 | 1:53 |
| | $4 | 1:43 |
Average overall odds of winning a prize are 1:6.6
Subject to Lucky for Life rules, the prize amounts indicated may be modified.
$7,000 a week for life is paid for a minimum of 20 years. If there are multiple Top Prize winners for a drawing, the Top Prize will be divided equally among Top Prize winners.
You can select up to 20 draws per play slip.
Disclaimer
The information contained on this page is for informational purposes only. All information is entered manually and is subject to error. The Maine State Lottery makes every effort to ensure the accuracy of this information but is not responsible for any errors contained on this page. In case of a discrepancy between the winning numbers listed on this page and the official winning numbers, the official results shall prevail. A winning ticket must be validated on the Maine State Lottery's gaming system for final winner verification. Complete Lucky for Life game information and prize claiming instructions are available from any Maine Lottery retail agent or by email at MaineLottery@Maine.gov.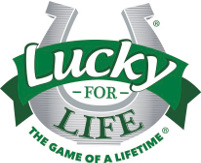 Get Winning Number Notifications Sent to You!
By Email, SMS, and more.
Sign up now!